WEAVE Wish Lists
Please help us to direct funds where they are most needed: serving all genders, all ages, all people impacted by violence. Donate new, in-kind items directly from our Amazon Wish Lists or donate cash for WEAVE to purchase everyday essential items to support our clients.
Check out our In-Kind Donation Calendar to see that items that needed throughout the year. Please note that our in-kind donations go directly to clients, so we ask that items are brand new.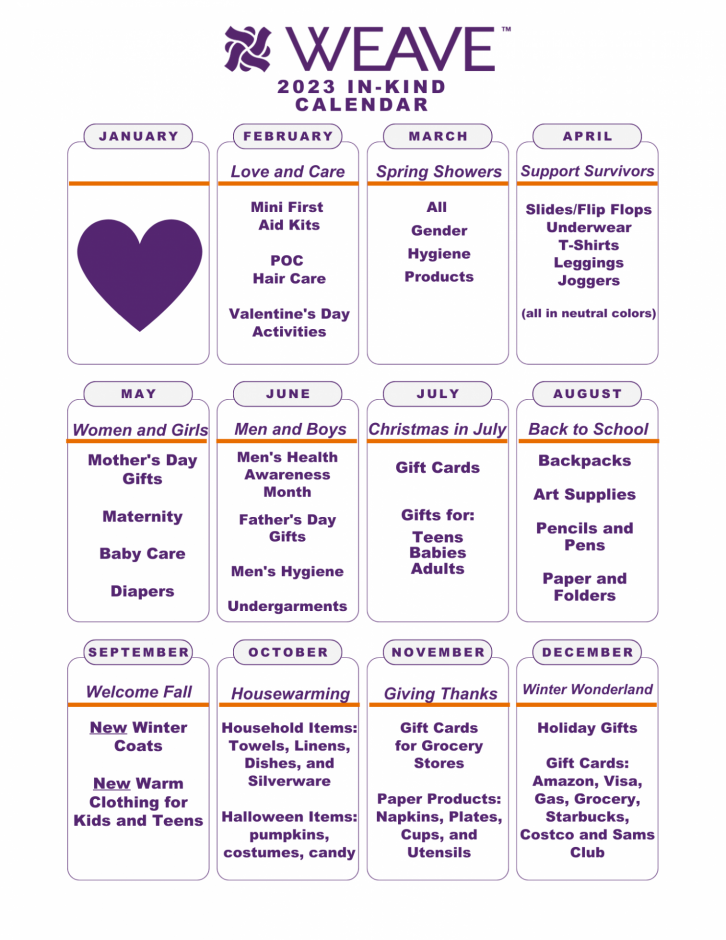 Donations can be mailed or dropped off to:
WEAVE
Attn: Philanthropy Dept.
1900 K Street
Sacramento, CA 95811
Please email or call the Philanthropy Department to schedule donation drop off or for any questions donate@weaveinc.org or 916-319-4909.
A Request Regarding Trial Sized Items
Our Safehouse residents stay with us for longer periods of time – often several weeks. These survivors are provided with full-sized shampoos, conditioners, soap, etc. This allows them greater autonomy (not having to ask for shampoo every day). As a result, we do not have a demand for sample/trial sized shampoos and soaps and ask that these items not be donated.
Our friends at Francis House do need these items on a regular basis. Their work involves supporting individuals who may not have had access to shampoo and soaps for days and the small sizes are beneficial and greatly appreciated. We ask that donations of trial sized items be directed to Francis House or another homeless agency where we know they can be used by those in need immediately.