Events
Upcoming events!
Trek Against Trafficking
July 23-29, 2022, the Rotary Club of Point West Sacramento will partner with WEAVE for the Pacific Crest Trail 100K Hike!
This multi-day adventure will help raise much needed funding for WEAVE's programs supporting survivors of sex trafficking, and the good work of the Point West Rotary Foundation. WEAVE provides comprehensive anti-trafficking programs focused on immediate crisis intervention to support adult and minor victims of sex trafficking and prevention education programs aimed at educating children and youth.
For more information, visit the website or Facebook page. You can also visit the website to learn more about sponsoring the event or donating.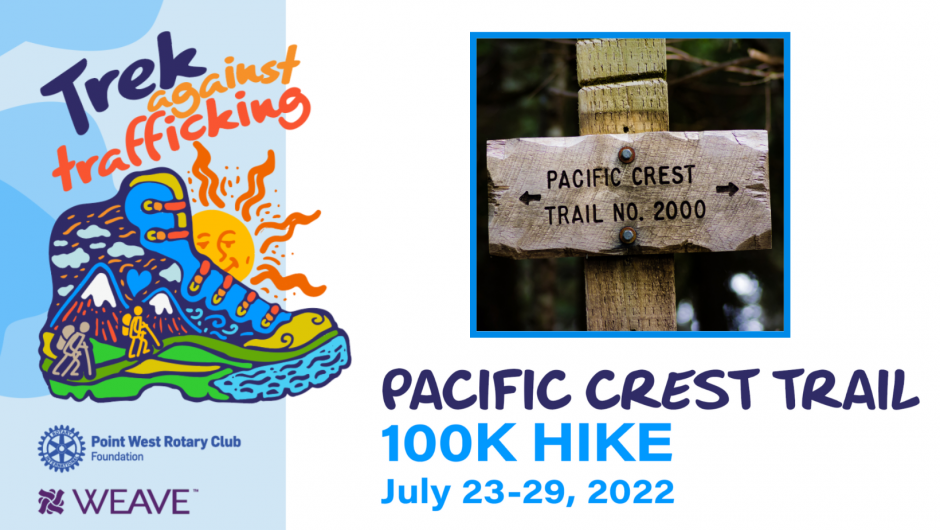 Thank you to the event sponsors!
Walk in My Shoes Sponsors:
Medina McKelvey LLP
Roger Gilleland, Reid & Price Properties
Art Consulting Services
Walter Helm, SVN




Lighten the Load Sponsors:
Melanie Gilleland
USA Auto Glass, John Price
Mary Lyn Kagan-Immediate Past President, Point West Rotary
Nancy Reid/ Rich Price- Reid & Price Properties
Jerry and Eileen (Leonard) Perra
Art Consulting Services
Wickland Corporation/ Dan and Laurel Hall
Prior to COVID 19, WEAVE hosted two large events a year, Feast for WEAVE in the Fall and Walk a Mile in Her Shoes in the Spring. These two events fundraising events raised $425,000 for WEAVE's 24-hour crisis intervention services a year.
In addition to WEAVE hosted events, WEAVE partners with community partners who put on their own DIY events that support WEAVE. These events range in donation collection (money, gently used clothes, wish list items), vary in style, and you are invited to participate. WEAVE has updated our DIY Event Application to reflect the impact of COVID 19 and will continue to work with individuals, groups, and businesses who raise funds for WEAVE so that all fundraising activities can be done safely.
Come back often to learn about what new events are taking place!