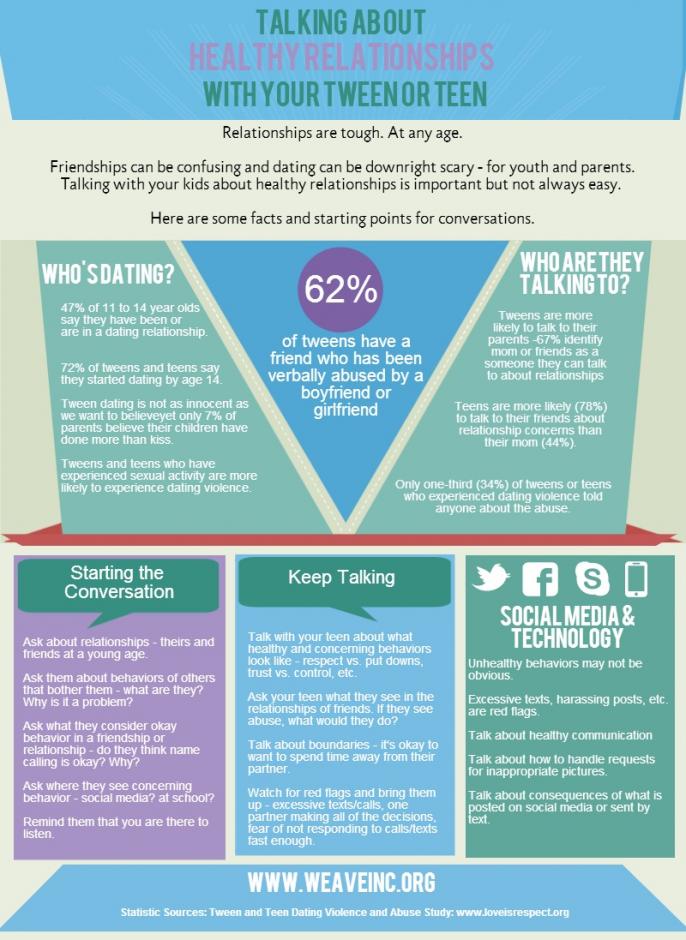 Tips for Parents of Tweens & Teens
Facts about Teen Dating Violence & Tips for Talking About It
Relationships are tough. At any age.
Friendships can be confusing and dating can be downright scary – for youth and parents.
Talking with your kids about healthy relationships is important but not always easy.
Here are some facts and starting points for conversations.
Who's Dating?
47% of 11 to 14 year olds say they have been or are in a dating relationship
72% of tweens and teens day they started dating by age 14.
Tween dating is not as innocent as we want to believe yet only 7% of parents believe their children have done more than kiss.
Tweens and teens who have experiences sexual activity are more likely to experience dating violence.
62% of tweens have friends who have been verbally abused by a boyfriend or girlfriend.
Who are they talking to?
Tweens are more likely to talk to their parents – 67% identify mom or friends as someone they can talk to about relationships.
Teens are more likely (78%) to talk to their friends about relationship concerns than their mom (48%).
Only one-third (34%) of tweens or teens who experience dating violence told anyone about the abuse.
Starting the Conversation
Ask about relationships – theirs and friends at a young age.
Ask them about behaviors of others that bother them – what are they? Why is it a problem?
Ask what they consider okay behavior in a friendship or relationship – do they think name calling is okay? Why?
Ask where they see concerning behavior – social media? At school?
Remind them that you there to listen.
Keep Talking
Talk with your teen about what healthy and concerning behaviors look like – respect vs. put downs, trust vs control, etc.
Ask your teen what they see in the relationships of friends. It they see abuse, what would they do?
Talk about boundaries – its okay to want to spend time away from their partner.
Watch for red flags and bring them up – excessive texts, calls, one partner making all of the decisions, fear of not responding to calls/texts fast enough.
Social Media & Technology
Unhealthy behaviors may not be obvious.
Excessive texts, harassing posts, etc. are red flags.
Talk about healthy communication.
Talk about how to handle requests for inappropriate pictures.
Talk about consequences of what is posted on social media or sent by text.
Statistic Sources: Tween and Teen Dating Violence and Abuse Study: www.loveisrespect.org