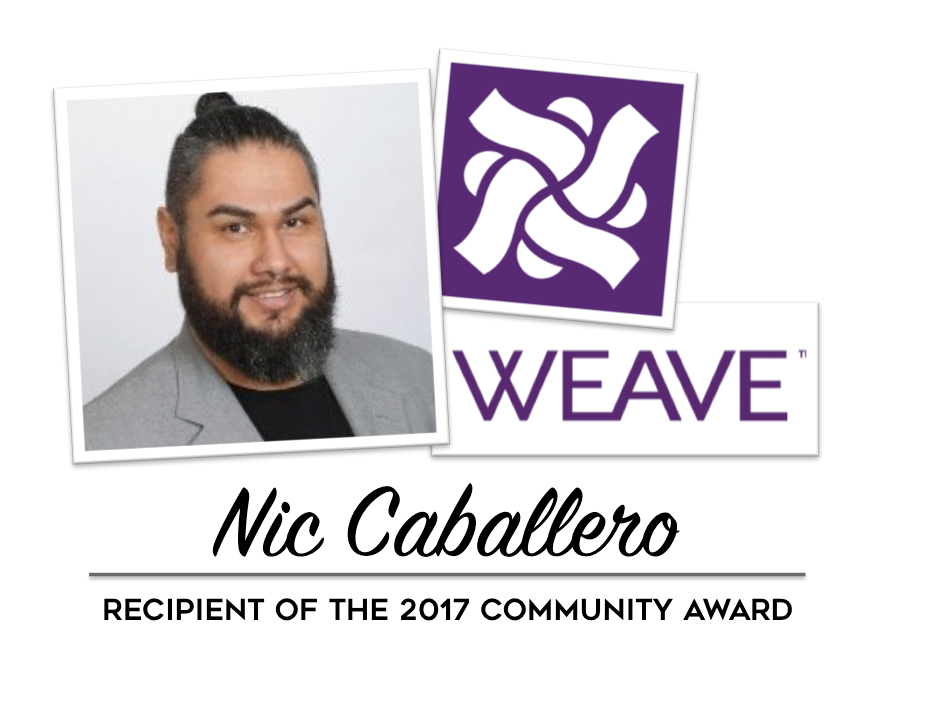 The 2017 Community Award goes to…
Pride Awards
WEAVE is proud to share that Nic Caballero (they/them, him, his) has been chosen as the 2017 Community Award Honoree for the Pride Awards presented by the Sacramento LGBT Community Center. Nic is a Bilingual Counselor and LGBTQ Specialist at WEAVE. Nic was chosen for their based on his embodiment of the passion and values of the visionaries who created the Sacramento LGBT Community Center and his commitment to building community, creating safe spaces, and supporting a community where LGBTQ people thrive.
Highlights of Nic's ten years of work include:
As a Bilingual Counselor and LGBTQ Specialist at WEAVE, Nic supports survivors of Intimate Partner Violence, sexual assault, and sex trafficking by providing counseling and does community outreach working with LGBTQ and serving LGBTQ affirming organizations.
Nic worked in partnership with the Sacramento LGBT Community Center to provide drop in group activities, access to counseling and to implement a needs assessment to explore the obstacles experienced by LGBTQ youth and homeless LGBTQ youth who have been sexually assaulted or exploited. Nic serves as a Social Work Field Supervisor at the Gender Health Center.
Nic is establishing a Spanish Speaking support group for parents of LGBTQ children in partnership with LaFamilia Counseling Center.
Nic volunteers with Audre's Emporium of New Beginnings through Waking the Village to support homeless LGBTQ youth and to provide transitional services for youth. Nic serves on the Sacramento City Unified School District's LGBTQ Task Force and volunteers as on-call support staff for the Gay Straight Alliance.
Nic is a founding organizing member of Sisters of Perpetual Indulgence and has worked to provide outreach and education regarding safe sex practices, sex positivity, and HIV prevention.