Work It! Fashion & Funds Support WEAVE To Work
Presented by It's On!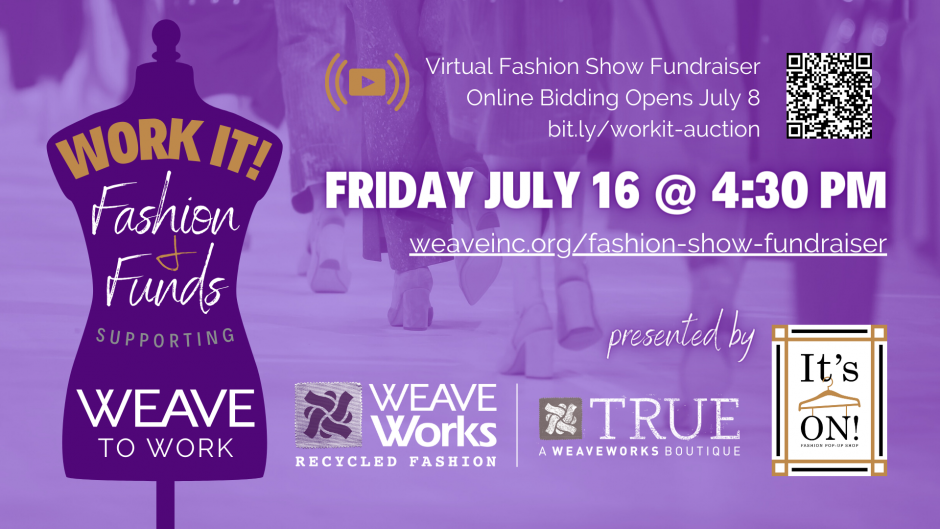 A virtual fundraising event where you can shop to support survivors of sexual assault, domestic violence, and sex trafficking.
In partnership with WEAVEWorks Recycled Fashion and TRUE – A WEAVEWorks Boutique.
July 8 – 16
Submit bids for your favorite outfits. Click here to register for our online auction.
Friday, July 16
Virtual fashion show starts at 4:30pm. Tune in on Charity Auctions Today or YouTube for the live-streamed event! (To participate in bidding during the event, please join on Charity Auction Today to ensure we see your participation.)
Please Join us for our 2nd Annual Virtual Fashion Show, presented by It's On! and Nancy Mallory, creator of Sacramento's premier Monthly Fashion Fundraiser Series. Our fashion show will feature a curated collection of vintage, up-cycled, and brand new women's fashion scouted at WEAVE retail stores. The head-to-toe outfits will be modeled by WEAVE representatives and will be up for bid from July 8 – 16 at our online auction site.
Our Virtual Fashion Show is for everyone. Help us celebrate socially conscious shopping and fashion sustainability while contributing to making the world a safer place. Whether you donate from a distance or shop safely in one of our stores, you are an active part of building a community that promotes safe and healthy relationships and supports survivors of sexual assault, domestic violence, and sex trafficking.
Proceeds from the online auction will fund WEAVE programs and services that empower survivors.
If you are unable to attend but still want to support our WEAVE to Work program, you can make a donation online by clicking here.