WEAVE Disco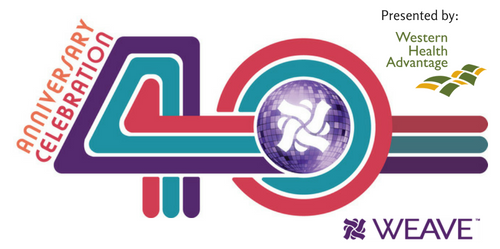 For 40 years, WEAVE has been committed to building a community that does not tolerate sexual assault, domestic violence, and sex trafficking and provides survivors with the support they need to be safe and thrive. 
Join us and get down with WEAVE for the
40th Anniversary Disco Celebration
Saturday, October 13, 2018 
What's Happenin
5:30pm – Cocktails & Raffle
6:30pm – Dinner and awards
8:00 pm – Auction 
8:45 pm – Get down with DJ Epik

Hosted bar throughout event.
Where it's at
8269 Alpine Avenue, Sacramento, CA 95826
Valent parking with transportation to event entrance.
Expected Threads
Bust out your 1978 Studio 54 worthy fashion or join us in funky cocktail attire.
Tickets
Must have tickets to attend. Tickets can be purchased here. 
Thank you to all of our sponsors who have helped make this event a success! Click here for a full list. 
For sponsorship information or questions, contact Megan Laurie at mlaurie@weaveinc.org or 916.319.4909