When Everyone Acts Violence Ends
October is Domestic Violence Awareness Month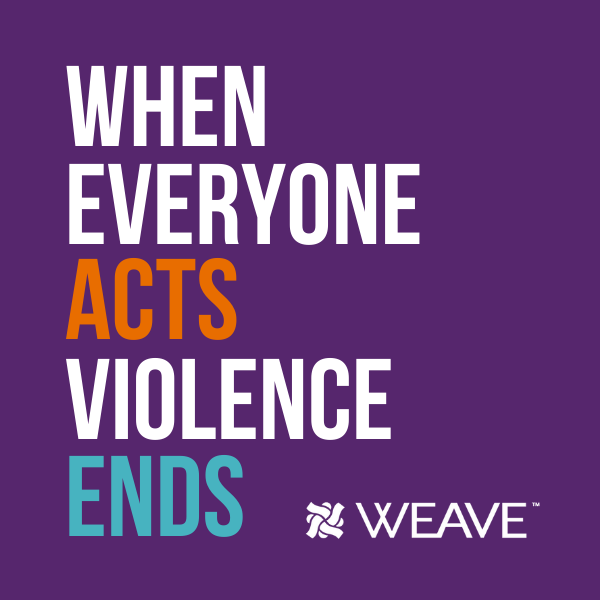 WEAVE is dedicated to the belief that When Everyone Acts Violence Ends. Learn more about how your actions support survivors and work to end violence.
Here are some ways you can get involved during Domestic Violence Awareness Month:
Awareness is an Action
For DVAM, participating local coffee shops and college campuses will be featuring WEAVE's awareness message sticker on their drink sleeves. If you come across one, take a picture and tag us on social! @weaveinc
You can find WEAVE stickers and information at Temple locations, Pachamama Coffee, Tiferet Coffee House, Strawberry Creek Starbucks by Cosumnes River College, and on Sac State's campus at Starbucks, Java City, and Grumpy Mule.
While supplies last.
Getting Support is an Action
Our 24/7 Support & Information is available if you need support. Call us at (916) 920-2952 when you're ready. We also have a live online chat feature available Monday through Friday, from 8:30-9pm. A white box with "WEAVE Live Chat – Now Online" will appear in the bottom right corner when an advocate is available.
Shopping is an Action
100% of the proceeds WEAVE raises at our three retail stores goes back into our programs and services. That means when you shop, you are supporting survivors and making sure 24/7 services are available – no matter what. We hope to see you shopping at all of our stores:
WEAVEWorks
2401 Arden Way, Sacramento 95825
Open Monday – Saturday 10am – 5:30pm
Closed Sunday
TRUE
1900 K Street, Sacramento 95811
Open Thursday – Friday 12pm – 5pm
& Saturday 10am – 5pm
Closed Sunday – Wednesday
The Thrift Store
6606 Fruitridge Rd, Sacramento 95820
Open Monday – Friday 9am – 5:30pm Saturday 9am – 5pm
Closed Sunday
Wearing Purple is an Action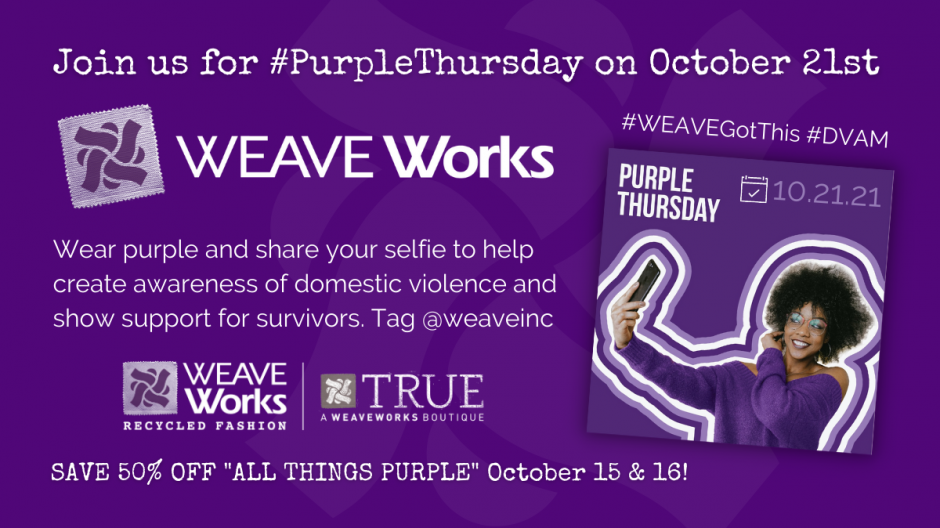 Prevention is an Action
Practice prevention by doing some of these activities at home or in the classroom.
Donating is an Action
Visit our donation page to see the many ways you could get involved and donate. You can also give by using this online donation form.

This month, we are also accepting candy, trick-or-treat buckets, and Halloween decorations for the children in our residential program. By October 29 at 5pm, we hope to receive enough donations for 70 children. ⁠ Donations can be mailed to WEAVE, Attn: Philanthropy, 1900 K Street, Sacramento, CA 95811 or dropped off through scheduled appointments by emailing donate@weaveinc.org.
Education is an Action
Supporting Someone is an Action
WEAVE encourages our community to take action against domestic violence. This includes when you suspect a friend, family member or co-worker is experiencing domestic violence. Learn how to offer support here.