Feast for WEAVE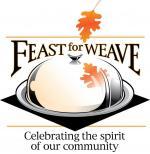 For 10 years, Feast for WEAVE has been providing WEAVE supporters with an amazing farm-to-fork experience to help raise critical funds for WEAVE's 24-hour crisis intervention services raising over $721,000.
Sunday, October 6
Feast for WEAVE
hosted by Mulvaney's B&L, 1215 19th Street, Sacramento
5:00pm, Reception
6:00pm, Dinner
7:30pm, Live Auction
Feast for WEAVE includes an amazing 5 course meal created by Chef Patrick Mulvaney and is paired with wine. The evening includes a raffle and live auction full of fantastic experiences.
Seating is limited. Sponsorships are available. Click here for more information.
Thank you to all of our 2019 sponsors!
For more information, contact contact the Philanthropy Department at donate@weaveinc.org.