WEAVE Receives FBI Director's Community Leadership Award
Message from Beth Hassett, Executive Director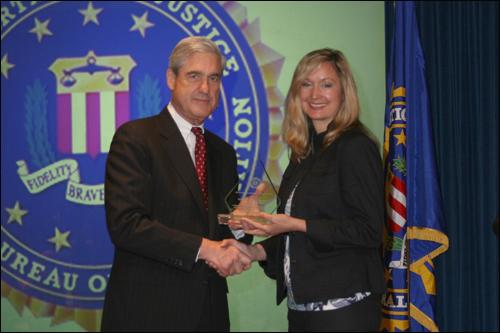 March 16, 2012
Today, WEAVE's Executive Director, accepted the FBI Director's Community Leadership Award in Washington D.C. The national award is presented to a select few individuals and organizations who are nominated by FBI Field Offices from throughout the nation each year. In fact, only a handful of Northern Californians have ever received the award.
Following the ceremony, Beth's thoughts focused on the importance of WEAVE to Sacramento , the thousands of victims served each year, and the region's unwavering support for our mission. "This award honors the hard work of WEAVE. It recognizes the right of every person to live without fear and the importance of the 24 hour response, support, and shelter provided by WEAVE. It celebrates the thousands of hours contributed each year by hundreds of volunteers. It acknowledges the passion that drives each staff person. It validates the tough decisions made by board and staff leadership over the past four years as we have struggled to do more with less. It reinforces the choices we have made to ensure that we can continue to survive during unprecedented times."
A link to photographs of the award ceremony will be posted shortly.